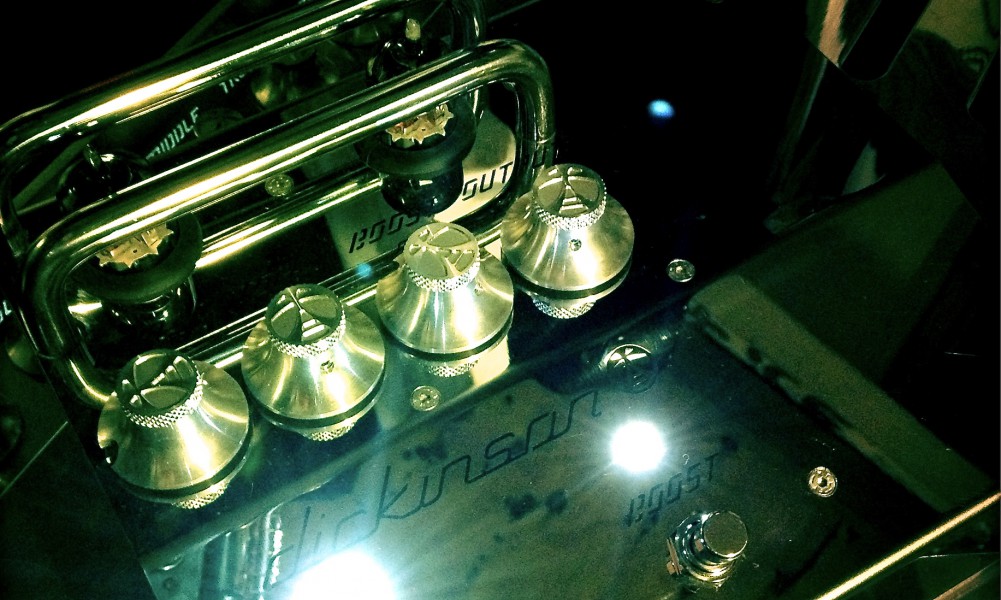 Full range, tonally pure, beautifully compressed valve overdrive and distortion whilst maintaining the integrity of your guitar and amp sound.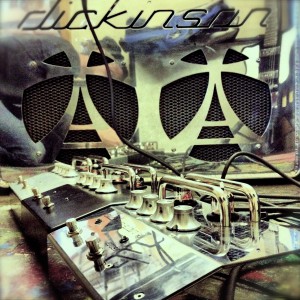 The story of the D1 begins with the idea of creating an all-valve overdrive that could be used as an extension of any amplifier. This unit would run at real voltage, so, rather than simply sounding and feeling like a valve amplifier, the D1 would sound and react to the touch as an all-valve amplifier. In fact, one could think of this piece as a modular valve preamp section to insert wherever the lovely touch response and natural valve compression of real glowing bottles is needed. The idea seemed obvious to us – when a musician has invested in a quality guitar and amplifier, or grown accustomed to the sound of this perfect pair, why not maintain that signal integrity with a tonally pure, zero-compromise valve overdrive?
An integral element of our design ethos has always been the fact that less is more. A simple, direct signal path enables all the nuances of the player's touch to translate from their fingers to the speaker, without getting lost in the tributaries of complex tone-stacks. With this less features and more tone mantra, we took the D1 to the prototype stage…
The first 20 were housed in off-the-shelf alloy boxes and simply sported output and gain controls. This deceptively simple circuit acted as a lead channel for classic amps and with the onboard boost, could turn a single channel non-master-volume amp into a tri-tiered tone machine. Having achieved our goal of a full frequency, all-valve preamp-in-a-pedal, we could have stopped there. However, with feedback from some top industry players who were field-testing these prototypes, it became apparent that the D1 could be much more than merely the perfect amp extension.
The second evolution of the D1 saw some minimal, yet crucial additions. It turned out that the early D1 recipients were using the device outside of the intended guitar-to-amp bridge application. They found that in the studio, the D1 could integrate into DAW setups and fortify the realism of amp modeling software. Some even used our valve overdrive as a mic preamp. For more seamless integration into a growing number of scenarios, we added a rotary top boost/cut control and the ability to preset the boost for low, medium and high portions of gain when engaged. We also re-housed the D1 in a grained stainless steel enclosure.
The current production D1 Overdrive marks a culmination of years spent refining the circuit, prototype production and field-testing feedback from professional working guitarists. From the beginning, our goal throughout this journey was to bridge the gap between player, pedal and amp by creating an all valve overdrive that runs at proper voltages. Because of this design approach, The D1 will respond to picking dynamics and volume changes, just like the onboard preamp section of a quality valve amp.
Under the hood, the Production D1 employs a carefully thought out combination of circuit board-mounted and handwired top-shelf components. These are housed in a beautifully bombproof stainless steel enclosure to ensure a lifetime of frequent use.
The simple, yet versatile control set now uses fully sweep-able pots instead of rotary dials for the top and boost controls for even more finite tone sculpting. The D1 can be dialed in effortlessly for subtle signal sweetening valve compression, dynamic corpulent crunch tones and rich singing lead lines with the boost engaged. Like all Dickinson products, the D1 Overdrive is handmade in the UK – using the artisanal construction methods that vintage British-built audio equipment is famous for. The question now becomes… what live or recording scenario wouldn't be better with a time-tested, all-valve signal sweetener?
Enclosure

Grained stainless steel with stainless fasteners
Knobs

Milled from billett aluminium
Valves

ECC83 x 2 as standard, can use ECC81 or 12AY7
Switching

On / Bypass, Boost on / off
Controls

Gain, Top cut / boost, Gain boost, Output
Power supply

12VAC 1 Amp (included)
HT

250 volts DC
Heaters

12 volts DC
Dimensions

100mm (H) x 200mm (W) x 170mm (D)
Weight

2kg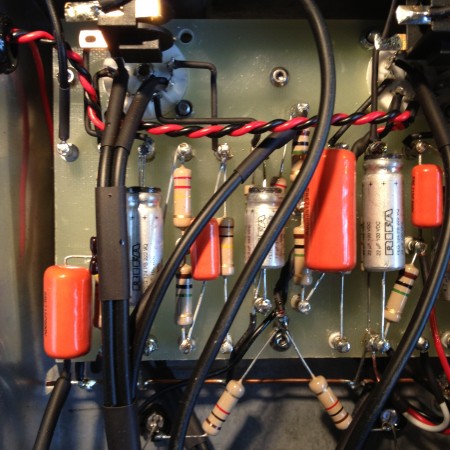 Ron McElroy and the Dickinson D1